Millimess: Dial Indicator Comparator – Mahr Germany
The Millimess is a unique series of dial comparators designed and produced by Mahr, a reputed German manufacturer of world-class metrology systems. This one-of-its-kind dial comparator is widely used in manufacturing facilities for comparative measurements of minute distances and angles.A common application involves comparing the dimensionsofa standard with that of samples to quickly assess deviations from the acceptable range.
In the Millimess series of dial indicator comparators, there are both analog and digital models. The following are the models of dial indicator comparators in the Millimess series:
| | |
| --- | --- |
| Measuring range beginning µm | -50 µm |
| Measuring range end µm | 50 µm |
| Measuring range from | -0.05 mm |
| Measuring range up to | 0.05 mm |
| Readings (µm) | 1 µm |
| | |
| --- | --- |
| Measuring range _beginning_ µm | -25 µm |
| measuring range_end_µm | 25 µm |
| Measuring range from | -0.025 mm |
| Measuring range up to | 0.025 mm |
| Readings (µm) | 0.5 µm |
Dimension Assessment With Gauges
In industries, a common practice toascertain the dimensions of components is to compare them with standard slip gauge blocks and evaluate whether the difference is within tolerable limits. This can be achieved by an arrangement of a plunger with gear system containing rack and pinion. The upward motion of the plunger caused by pressure exerted due to difference in dimensions is amplified multiple times through the rack and pinion system and is indicated in the dial.
Such measurements can be performed by three main types of instruments:
Comparators (high precision amplifiers)
Indicators (higher precision compared to test indicators, mainly used for inspection)
Test Indicators (lowest precision)
Of these, dial gauge comparators are high precision amplifiers and are preferred to dial indicators as they are more accurate and convenient for measurement.
Disadvantages Of Dialindicator Systems
A dial indicator often has more than one revolution reading for increased precision and range. Most dial indicators have a measurement range of 2.5 revolutions of the needle. Such ranges were useful decades ago when machine tool accuracy demanded broad ranges. However, in the modern era, they often cause errors and are non-functional. Considering the speed at which the needle in a dial indicator finishes a revolution, operators often miss this count and end up having to repeat the entire procedure. An even worse scenario would be erroneous components passing the quality test.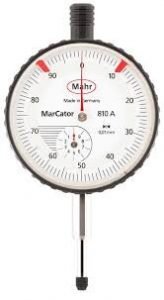 To avoid such mishaps, manufacturers must equip themselves with dial indicators of different ranges.
The Millimess & Its Advantages
To avoid all the above-mentioned hassles, the Millimess—a dial indicator comparator—is an ideal solution. It is particularly suitable for measurements where the accuracy and the reversal span of a conventional dial indicator are not sufficient. The following are some of the numerous advantages that Millimess dial indicator comparators offer over other comparable gauges:
Superior resolution and accuracy, ensuring readings as small as 0.2 µm (10 µinch)can be measured effortlessly.
Minimal reversal span error which is achieved by the levers, gear and pinions being supported by jeweled bearings.
Total shockproof plunger movement.
Minimal hysteresis by mounting of measuring spindles on high-precision ball guides.
Resistance to lateral forces (side play) acting on measuring spindle.
Measuring spindle retraction with either a screw in cable release or a lifting knob.
Less chances of misreading the dial, and at the same time more cost-effective than electronic gauges. 
Robust build and long-lasting.
Agaram Industries is an authorized distributor of Mahr Germany, in India. To buy a Millimess series dial comparators in India, you may fill up this form or send an email to sales@agaramindia.com. Alternatively, you can also place your order in any of the following portals and we shall fulfill your order.
INTERESTED IN OUR PRODUCTS?
Leave us with your contact details. We will get in touch immediately.