La Monferrina Pasta Machines
La Monferrina is a renowned Italian manufacturer of pasta machines whose machines are widely used in industries and also in laboratories researching about pasta and its characteristics. Started in 1978, La Monferrina has always endeavoured to build machines capable of producing all kinds of pasta at the highest quality possible.
In 2010, La Monferrina entered into a joint venture with Imperia, another giant Italian manufacturer of low-capacity pasta machines. This company, called Imperia Monferrina, became the leading producer of pasta machines of all ranges, starting from small machines for home use to the ones used in industrial production lines.
La Monferrina Pasta Machine Models
Counter-top model with a production capacity of 1 to 2 and a half kilograms per hour
Can produce coarse grain pasta with the bronze casting die and smooth pasta with the Teflon die
Can produce different lengths of pasta by varying the speed of the rotating knife attachment
Can also produce pizza and bread dough
Durum wheat flour is recommended for consistency
Medium-sized pasta machine having a production capacity of 8 to 10 kilograms per hour
Compatible with single, two, or four blade rotating knifes for increased throughput
Built-in fan for preliminary drying
Can produce two-layer pasta sheets of thickness that can be controlled
Compatible with semi-automatic ravioli attachment which can produce all types of fillings from 34 to 40 mm
Simple to dismantle for cleaning and maintenance
Fully automatic pasta machine suitable for hotels
Production capacity of 15 to 18 kilograms of pasta per hour
Capable of mixing six kilograms of flour per hour
Operation happens in two stages—mixing and extrusion
Ability to produce single-layer pasta sheets that can be for lasagna, cannelloni, or ravioli
In addition to ravioli attachment, a gnocchi attachment can also be mounted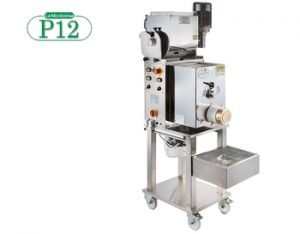 Preferred model for small-scale pasta producers
Production capacity range of 25 to 35 kilograms per hour
Designed with two vats for simultaneous mixing and extrusion
Reduced working time which is important in industrial applications
System is water cooled for enhanced efficiency
Compatible with bronze and Teflon dies for producing different shapes of pasta
Basic variant in high-capacity models with a production capacity of 50 kilograms of pasta per hour
Suitable for pasta production from any kind of flour and durum wheat
Equipped with control panel and safety features
Shaft and screw can be disassembled for easy cleaning and maintenance
Extruder head and die are water cooled
Maximum production capacity of 100 kilograms of pasta per hour
Equipped with pasta cutter whose speed can be varied for different lengths
Pressure on extruder head can be precisely controlled
Upper vat can be automatically tilted by pneumatic system
Extruder head and die are water cooled
Used worldwide in industrial production lines
Ability to churn out up to 200 kilograms of pasta per hour
External body is made of aluminium, while the parts in contact with the pasta are made of stainless steel to avoid rusting
Equipped with two vats in which the upper kneading vat has automatic tip up
Extruding barrel is water-cooled for enhanced efficiency
Shaft and screw can be disassembled within minutes for effortless cleaning
La Monferrina Pasta Machine Price
Agaram Industries is the exclusive distributor of La Monferrina, Italy, who manufacture the Dolly, P3, P6, P12, P50, P100, and P200 pasta machines. To get a quotation with the pasta machine price, you can fill up this form or send an email directly to sales@agaramindia.com.
INTERESTED IN OUR PRODUCTS?
Leave us with your contact details. We will get in touch immediately.