RUDOLPH RESEARCH ANALYTICAL, USA
Rudolph Research Analytical, USA: Digital Polarimeters, Density Meters & Refractometers
Rudolph Research Analytical (RRA) is a world-renowned manufacturer of analytical instruments such as density meters, polarimeters, refractometers, and saccharimeters. In 1930, RRA first started as an importer of such instruments from Europe. After the Second World War, it started manufacturing its own instruments in New Jersey, USA. Ever since, it has exhibited continuous and steady growth. Till date, the company sticks to its goal of constantly innovating and manufacturing instruments of the highest quality.
Agaram's association with Rudolph began in the early 1990s. A couple of years later, Agaram was made the exclusive dealers for all RRA products in India. Since then, Agaram has successfully completed over 1000 installations of Rudolph's instruments in India and a few in the rest of the Indian subcontinent. These installations include a variety of industries such as pharmaceutical, chemical, flavors and fragrances, petroleum, beverages, agriculture, and research institutes.
The following are the instruments designed and manufactured by Rudolph Research Analytical:
A polarimeter is used to measure the optical rotation of liquid samples. Using this value of optical rotation, the specific rotation of the sample can be determined.
The Autopol series from Rudolph is the single largest selling polarimeter line and it has models varying from Autpol I, which is the basic model, to Autopol VI, the top-end version. Rudolph is the only manufacturer offering NIST-traceable QCPs.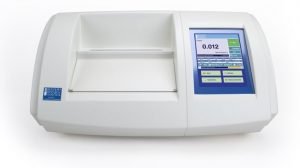 A digital refractometer is used to measure the refractive index (RI) of liquid samples, from which other relevant values such as Brix, Butyro, and salinity can be derived.
The J-series refractometers from Rudolph are available in various models, with each model varying based on the application for which it is used. The bench top instruments are predominantly used in the fields of pharmaceutical, food, petroleum, chemical, petro-chemical, and beverage.
The density meter, as the name suggests, is used to find out the density of liquids. Using the value of density obtained, you can also derive specific gravity, normality, Brix percentage, and Baume percentage.
Rudolph's line of density meters is called the DDM series. It is available in four models with each one varying in accuracy. These instruments find applications in industries such as pharmaceuticals, food and beverage; lubricants fine chemicals, petroleum, and petro-chemicals.
The DDM series density meters from Rudolph have the proprietary Video View™ Bubble Detection technique, which ensures error-free results.
Digital Saccharimeters are used to measure Pol value, which is a vital criterion in sugar industries.
Models IZ and IIZ are designed for limited budget applications where 0.02 Deg Z (ISS) accuracy is sufficient. For more demanding accuracy applications, Rudolph offers the Autopol 589, Autopol 880, and Autopol 880T models, that have +/- 0.01 Deg Z (ISS) accuracy. These models can penetrate dark samples up to 4.0 OD.
Polarimeter, Refractometer, Sachharimeter & Density Meter Price
Agaram Industries is the exclusive distributor of Rudolph Research Analytical polarimeters, refractometers, saccharimeters, and density meters in India. If you'd like to get a quote for any of the above-mentioned products, just fill up this form or send an email to sales@agaramindia.com.
INTERESTED IN OUR PRODUCTS?
Leave us with your contact details. We will get in touch immediately.