KYOTO ELECTRONICS MANUFACTURING CO.,LTD, JAPAN
Kyoto Electronics Manufacturing (KEM) Co. Ltd., Japan
Kyoto Electronics Manufacturing Co. Ltd., Japan, is a world-renowned manufacturer of various analytical instruments, including digital hydrometers, Brix meters, digital refractometers, WBGT meters, and titrators. Having started in the year 1961, KEM has focussed on developing and manufacturing analytical and measuring instruments of the highest quality.

The portable analytical instruments from KEM find varied applications in the fields of pharmaceuticals, food & beverages, chemicals, flavours & fragrances, and distilleries. The following are some of KEM's portable instruments which commonly find a place in quality control labs and production lines of all the above-mentioned industries.
Digital Hydrometer (DA-130N)
KEM's digital hydrometer is a portable density measurement instrument. It is a versatile instrument that does not measure just density, but also numerous other parameters related to density such as specific gravity, Brix %, alcohol %, concentration of sulphuric acid, and a few others. The ergonomic and handy design of the DA-130N makes it much sought after in industries such as beverages, pharmaceuticals, petrochemicals, batteries, and so on.
Portable Brix Meter (BX-1)
In the food and beverages industry, the sucrose content is closely monitored to standardize the sweetness of products. Since the Brix % is an objective way of determining sweetness, the Brix meter from KEM, BX-1, is a commonly used instrument in this industry. It is a digital device which can measure the Brix % for samples which are between 10°C and 75°C. To withstand the demands of industries where these portable instruments will be subjected to rough usage, the BX-1 is waterproof and dust-proof.
KEM's WBGT meter is a portable instrument that gives you critical atmospheric indicators such as wet bulb globe temperature (WBGT) index, temperature, relative humidity, and globe temperature. This is commonly used to predict the probability of heat strokes.Hence, they are also referred to as heat stress meters. The WBGT meter is used in sports to determine the atmospheric conditions and tweak the workout and food and water intake of sports persons accordingly. It is suitable for both outdoor and indoor use.
Portable Refractometer (RA-130)
KEM refractometers are used in a wide variety of industries to measure the refractive index (RI) of liquid samples. Apart from refractive index, they can also measure Brix % and temperature compensated RI. The device has a wide measuring range of 0 – 85% Brix and 1.3200 – 1.5000 refractive index. It is equipped with a built-in storage that can store up to 1,100 results.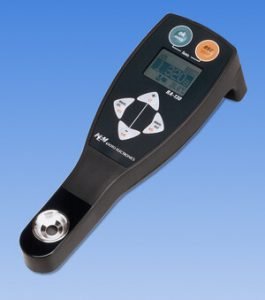 Gas Volume Analyser (GVA-700)
In companies producing beverages and aerated drinks, the quality control team closely monitors the volume of gas filled in each bottle or the internal pressure in the containers. This is achieved with the help of a gas volume analyser.
KEM manufactures gas volume analyser with the model name GVA-700. The GVA-700 is a versatile instrument that can accommodate bottles of various sizes.
KEM And Agaram Industries In India
Agaram Industries is the exclusive distributor of portable instruments from Kyoto Electronics Manufacturing Co. Ltd., Japan in India since 2010. To get a quotation with the price of KEM instruments, you can fill up this form or send an email to sales@agaramindia.com.
INTERESTED IN OUR PRODUCTS?
Leave us with your contact details. We will get in touch immediately.