LabMill – Chopin Technologies, France
Chopin Technologies,a subsidiary of KPM Analytics, is a French manufacturer of instruments for evaluating the different parameters of cereal, flour, and other related products. Though most instruments from Chopin Technologies are for assessing flour quality, the LabMill is different in the sense that it is used to determine the optimum quantity of flour that can be obtained from a certain amount of wheat being milled. The LabMill analyses the behaviour of wheat during the milling process and evaluates milling performance for both hard and soft wheat.
Industrial mills are meant to gradually separate flour and bran. Initially, in the breaking phase, the grains are sent through grooved cylinders for them to be broken open. The produce from within the grains is then classified according to particle size. The next is the breaking phase in which smooth rollers are used to extract the maximum amount of flour possible while also considering other criteria such as ash content.
The LabMill is the only laboratory instrument worldwide which can simulate the industrial milling process in a laboratory to evaluate yield. It has the same working principle as an industrial mill by having grooved cylinders in initially followed by smooth cylinders. With the LabMill, Chopin Technologies tested 150 samples from around the world which resulted in an average extraction rate of 75% and ash generation of 0.55%.
Salient Features Of LabMill
Precise replication of extraction rate of industrial mills because of gradual reduction of wheat
Flow rates and gaps between cylinders can be adjusted to determine best balance between extraction rate and flour quality
Each fraction obtained from the grains can be studied individually which helps to build a milling table
Samples ranging from 50 grams to 3.5 kilograms can be measured
Breaking and reduction sides can be operated simultaneously to reduce testing time
In addition to the LabMill, Chopin Technologies also manufacture two other models – CD1 Mill and CD2 Mill.
While the CD1 Mill produces test flour of soft wheat, the CD2 Mills produces durum wheat. The produce from both these instruments is accurately representative of the industrial milling process.
The CD1 mill complies with AACC 26-70.01 which describes its use for experimental milling. It also complies with NF EN ISO 27971 which describes the test milling methodology for the Alveograph test.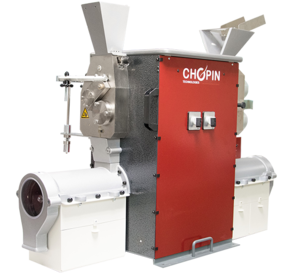 Preferred by wheat breeders since it has a minimum sample requirement of only 50 grams
Ingredient specialists use the LabMill for testing breads and similar baking products
The LabMill is popular in control labs and research institutes because of its high repeatability and reproducibility
Agaram Industries is the exclusive distributor of Chopin Technologies, France, who manufacture the LabMill. To get a quotation with the LabMill price, you can fill up this form or send an email directly to sales@agaramindia.com.
INTERESTED IN OUR PRODUCTS?
Leave us with your contact details. We will get in touch immediately.