Lint-Free Wipes – Ozu Corporation, Japan
Ozu Corporation is a Japanese company that specializes in lint-free wipes. Of the many variants they produce, one is the Pure Leaf ST-280 that is majorly used for cleaning purposes in laboratories.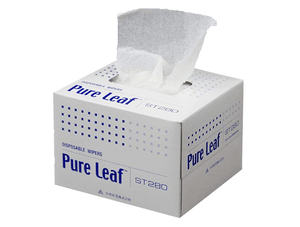 Salient Features Of Pure Leaf ST-280 Lint-Free Wipes
The following are the highlights of Pure Leaf ST-280 wipes which makes them the preferred choice in laboratories across the globe:
| | |
| --- | --- |
| Model Name | Pure Leaf ST 280 |
| Packaging and Size | Pop-up-box, 11×21 cm (same as Kimtech Kimwipes) |
| Composition | 100% virgin paper pulp |
| Quantity | 280 wipes per box ; 60 boxes per carton |
| Application | Laboratories / Cleanrooms |

Pure Leaf ST-280 Lab Wipes
The Pure Leaf ST-280 wipes are made of 100% virgin paper pulp. Since liquid spills are common in labs, the cleaning material used there should be able to absorb liquids without leaving any residue. The composition of Ozu lab wipes lends them a high absorption capacity and chemical resistance. It is also the reason for their soft texture which ensures that they don't leave scratch marks on the instrument or surface being cleaned.
The amount of lint generated by the Pure Leaf ST-280 wipes is considerably less when compared to any of the other lint-free wipes available in the market. This is due to the technologically advanced production technique employed by the company, which has also been continuously refined over the years.
The packaging has been designed with the different needs of labs in mind. These lint-free wipes are packed in pop-up type boxes to make removal easy. Once one wipe has been pulled out, a small portion of the next one will slide to the top, ready to be pulled out for the next use. Each pop-up type box contains 280 wipes, each wipe having dimensions of 11 x 21 cm. This size has been unofficially standardized in the labs of pharma and food industries (also the dimensions of Kimtech Kimwipes). By using Pure Leaf ST-280 wipes, labs which are subjected to strict scrutiny can rest assured about breezing through safety audits.
Need For Lint-Free Lab Wipes
Most research laboratories have numerous high-precision instruments such as UV spectrophotometers, refractometers, polarimeters, contact angle meters, universal testing machines (UTMs), and many more. The presence of sensitive parts in these instruments forces laboratories to lay a lot of importance on their maintenance. This is also the reason why such sophisticated labs standardize their cleaning products, including lab wipes.
Though the lab wipes might seem like an insignificant part of the setup, the quality control (QC) team would like to ensure that the cleaning material being used satisfies certain basic criteria. In such an ecosystem, ordinary fabric cannot be used for cleaning because of their tendency to generate a lot of lint. Hence, most of the labs rely on disposable, lint-free wipes for all their cleaning applications within the premises. In certain industries, they are also called lint-free tissue paper.
In the case of laboratories related to pharmaceutical or food industries, the regulatory mandates they need to comply with are stringent. Hence, even the tiniest of objects being used in such labs should satisfy the prescribed standards. The lint-free wipes used regularly for cleaning are no exception.
Agaram Industries is the authorized distributor of Ozu Corporation's lint-free wipes in India. To get a quotation with the lint-free wipes price, you can fill up this form or send an email to sales@agaramindia.com.
You Can Also Buy Our Product From Amazon From The Following Link:
INTERESTED IN OUR PRODUCTS?
Leave us with your contact details. We will get in touch immediately.